---
Spadaným listím 08
3. 11. 2008
Poslední říjnová sobota v roce patří již tradičně závěrečné cyklovyjížďce pod názvem "Spadaným listím aneb loučení se s babím létem" , kterou zaštiťuje holešovský Drásal tým. Tentokrát se akce konala za příznivého počasí v sobotu 25.10. 2008.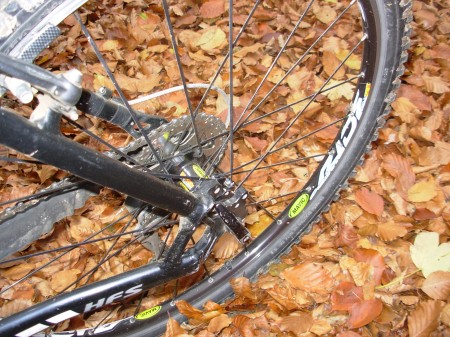 My jsme si dali sraz ve 12.00 hodin u Hospody na návsi v Žopech, abychom měli dostatek času se v klidu přesunout na náměstí do Fryštáku, odkud se ve 13.00 hodin "startuje".
Sešli jsme se ve složení :
Soňa, Petr, Tomáš, Zdeněk, David a Fera. Vyjel s námi i bývalý Žopák Marek Hejník zvaný Mares.
Na vyjížďku se těšil taky Milan, ale na sobotu si našel " lepší " program. Tak jsme se u něho cestou alespoň stavili na kontrolu jestli se neválí a abychom ho pozdravili. Každý jsme od něho dostali zkusit čerstvý vzorek z letošní přepalované úrody a konečně jsme vyrazili směr Fryšták. Za Lukovečkem jsme potkali kamaráda Víťu Frkala z Kroměříže, kterému jsme dodatečně popřáli k jeho životnímu jubileu ( 50 let ) a po krátké přestávečce s občerstvením jsme pokračovali dál v cestě.
Náměstí se postupně plnilo pestrobarevnými hloučky " bajkerů " zastupujícími jednotlivé týmy.( zelení – Drásal, bílí – OD Morava, tmavě modří – Pokalíšci, světle modří – MXM Hulín, červení – Trob, oranžoví – MY ..... atd. - zkrátka, bylo to jak u voleb ) Všichni spolu vášnivě debatovali, zdravili se a vyměňovali si nejen své zážitky, ale i požitky.
Ve 13.00 hodin přítomné uvítal Pavel Mrázek , ujistil nás , že " bajková " sezóna nikdy nekončí a zavelel k útoku směr Ondřejovsko, kde byla první větší " občerstvovačka ."
Odtud trasa vedla Nad Roztoku, Okluk, Holý vrch, přes sedlo Klapinov a Skalný, kde jsme dali řeč se skupinkou cyklonadšenců z Přerova. Potom na Hostýn, kde jsme si udělali menší přestávku a dali si něco dobrého a výživného na doplnění sil a hlavně ztracených tekutin.
Při sjezdu z Hostýna se Mares patrně doslova řídil názvem vyjížďky " Spadaným listím " a trochu ho helmou prokypřil. Naštěstí to dopadlo dobře a my mohli zvesela po této jeho akrobatické vložce pokračovat směrem přes Grapy, Rusavu a Brusné do cíle našeho putování - do Holešova na Holajku, vlastně do Hospůdky u Cabyša, která je základnou Drásal Týmu. Ti zde pro všechny zúčastněné připravili kvalitní Gulášek.
Po krátkém pobesedování si jsme se již za tmy rozjeli příjemně unaveni ke svým domovům.
Zapsal : Zdeněk
Komentáře
Přehled komentářů
---
---